Free Dashboards - 5 Killer Templates for 2021
A curated list with pixel-perfect dashboards to use for free in 2021: Soft UI, Volt, Berry, CoreUI, and Star Admin. All products are open-source released under MIT License on Github.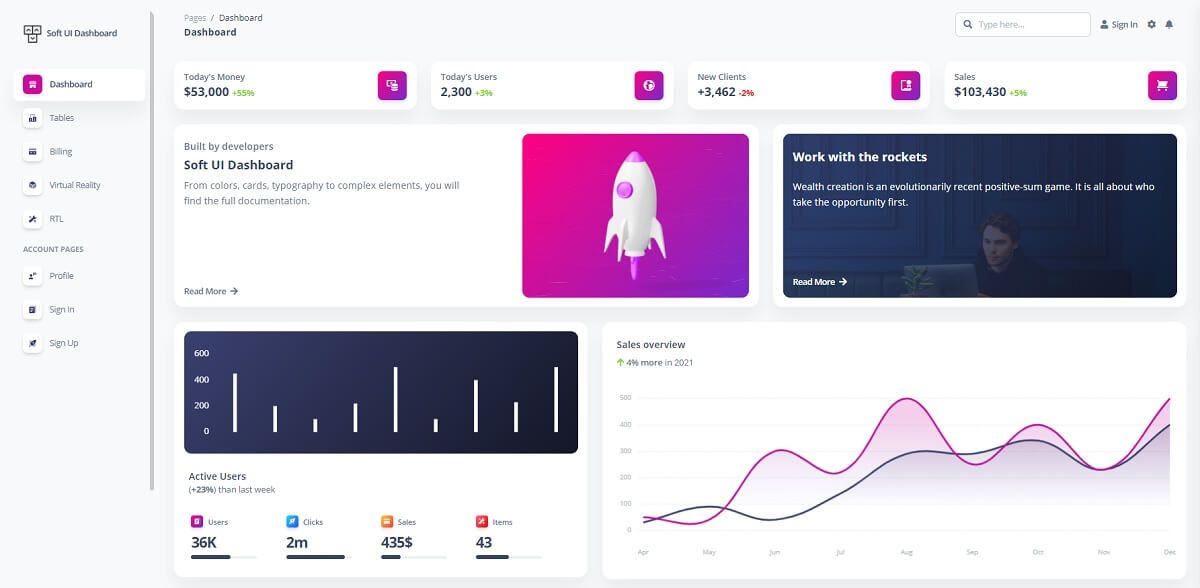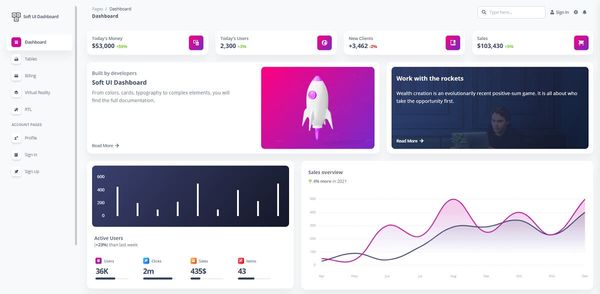 Hello! The article presents a short-list with Free Dashboards recently updated or released by their vendors under permissive licenses. Our team constantly scans the market for new open-source dashboards and creative designs that developers might use to code hobby or commercial dashboards without an initial investment. The zero-cost aspect might be important especially for beginners that try to build a portfolio or get a first customer at the beginning of their carrier as programmers.  Thanks for reading!
---
The product comes on top of Soft UI Design System, the latest design crafted by Creative-Tim. Designed for those who like bold elements and beautiful websites Soft UI Dashboard is made of hundreds of elements, designed blocks, and fully coded pages - Dashboard Features:
MIT License, 12k downloads (5 months release)
70 UI Components, 7 Sample pages
Bootstrap 5, Gulp Tooling
Futuristic design, pixel-perfect layout on all devices.  
Fully Coded Elements - Soft UI Dashboard is built with over 70 frontend individual elements, like buttons, inputs, navbars, nav tabs, cards, or alerts, giving you the freedom of choosing and combining. All components can take variations in color, that you can easily modify using SASS files and classes.
Soft UI Dashboard - product page (contains DEMO and sources)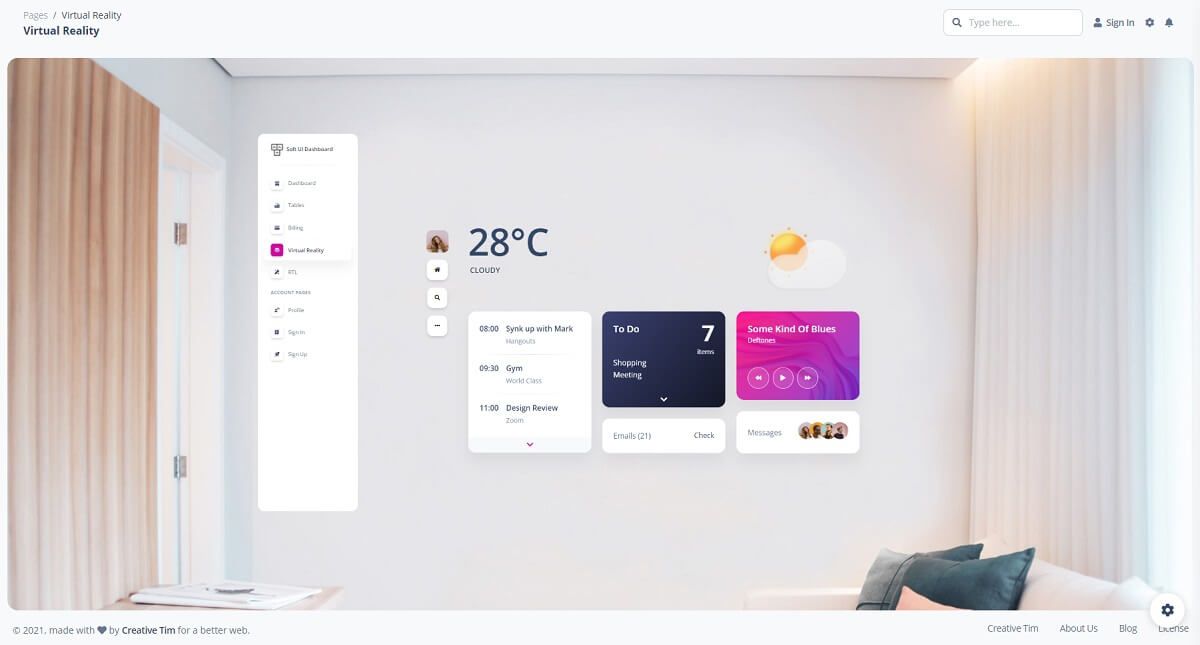 Volt is a free and open-source Bootstrap 5 Admin Dashboard featuring over 100 components, 11 example pages, and 3 plugins with Vanilla JS.
MIT License, 4k downloads (1-year release)
100+ Components, 11 Sample pages
Bootstrap 5, Gulp Tooling
Distinct UI
100+ Components - There is more than 100 free Bootstrap 5 components included some of them being buttons, alerts, modals, date pickers, and so on.
Volt Dashboard - product page (contains DEMO and sources)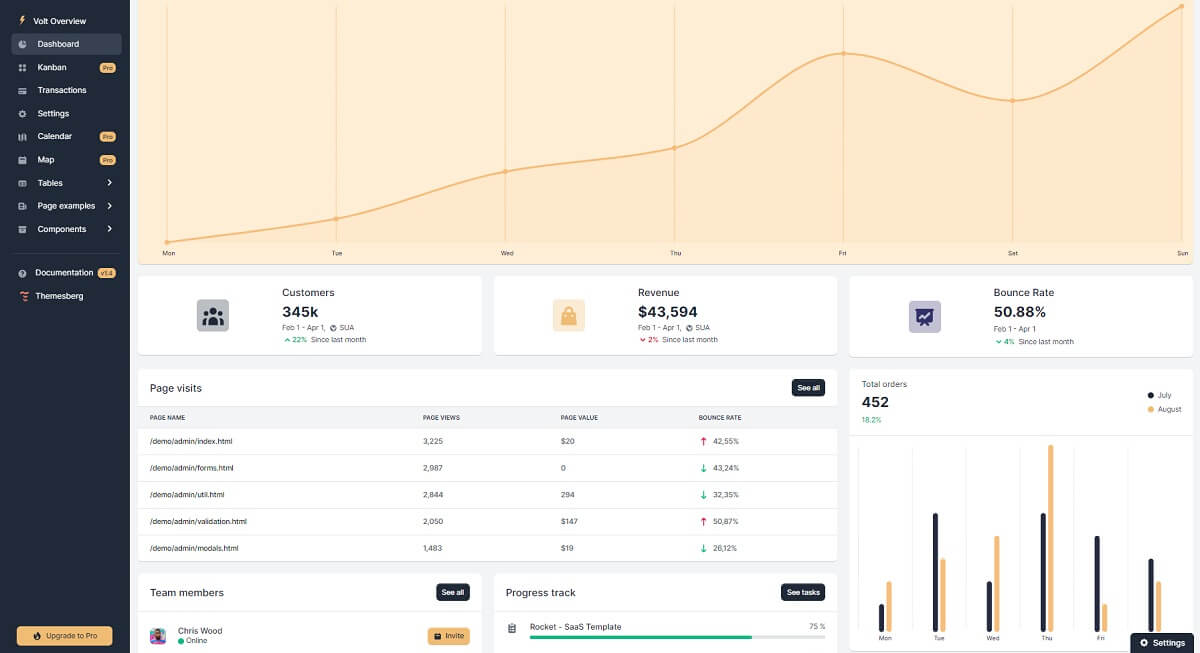 Berry is a beautiful React Admin Template that comes with many ready-to-use blended Material-UI components. Berry helps you to create your backend application even faster than before. You can build anything you want like the User Management app, SaaS-based interface, and many more with high-performance code & fully responsive design.
MIT License
Material-UI Design, React
Distinct UI, blazing-fast
Berry is a creative free react admin template build using the Material-UI. It is meant to be the best User Experience with highly customizable feature-riched pages. It is a complete game-changer React Dashboard Template with an easy and intuitive responsive design as on retina screens or laptops.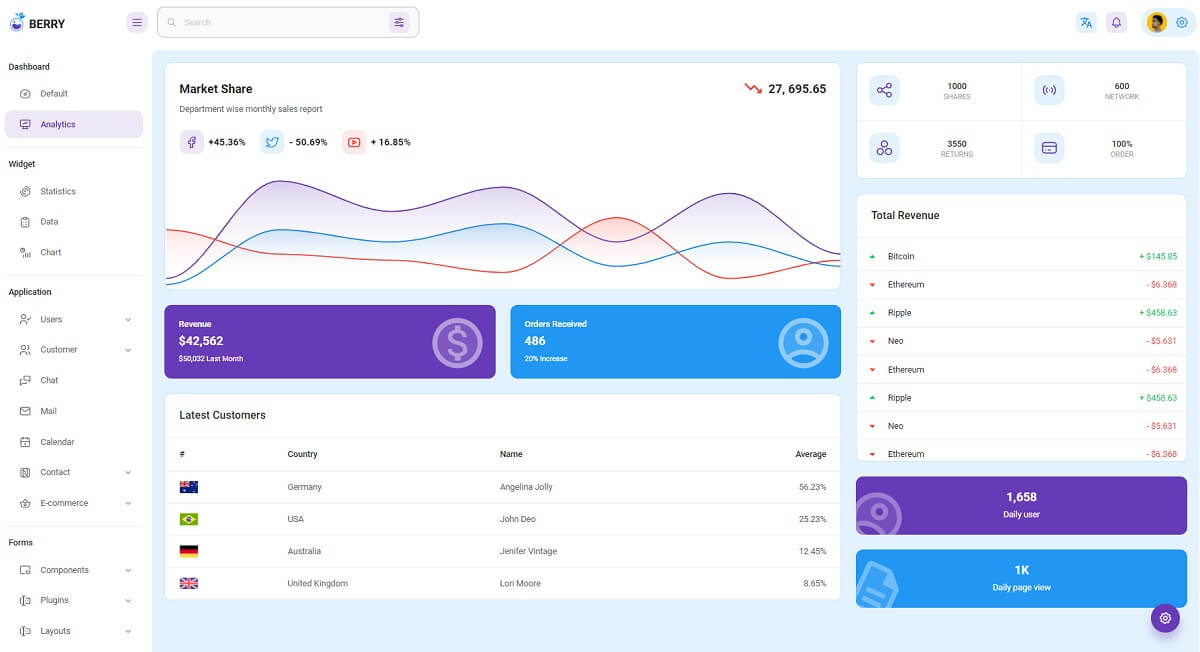 Beautifully designed and well-coded admin template, that comes with excellent support from experts. Built using the latest technologies and up to date with the latest trends and tools.
MIT License
Bootstrap 5 Design, Gulp Tooling
Pre-built pages, lightweight design
The template is well crafted, with all the components neatly and carefully designed and arranged within the template. Star Admin 2 Free comes with a clean and well-commented code that makes it easy to work with the template. Thus making it an ideal pick for jump-starting your project.
Star Admin - product page (contains DEMO and sources)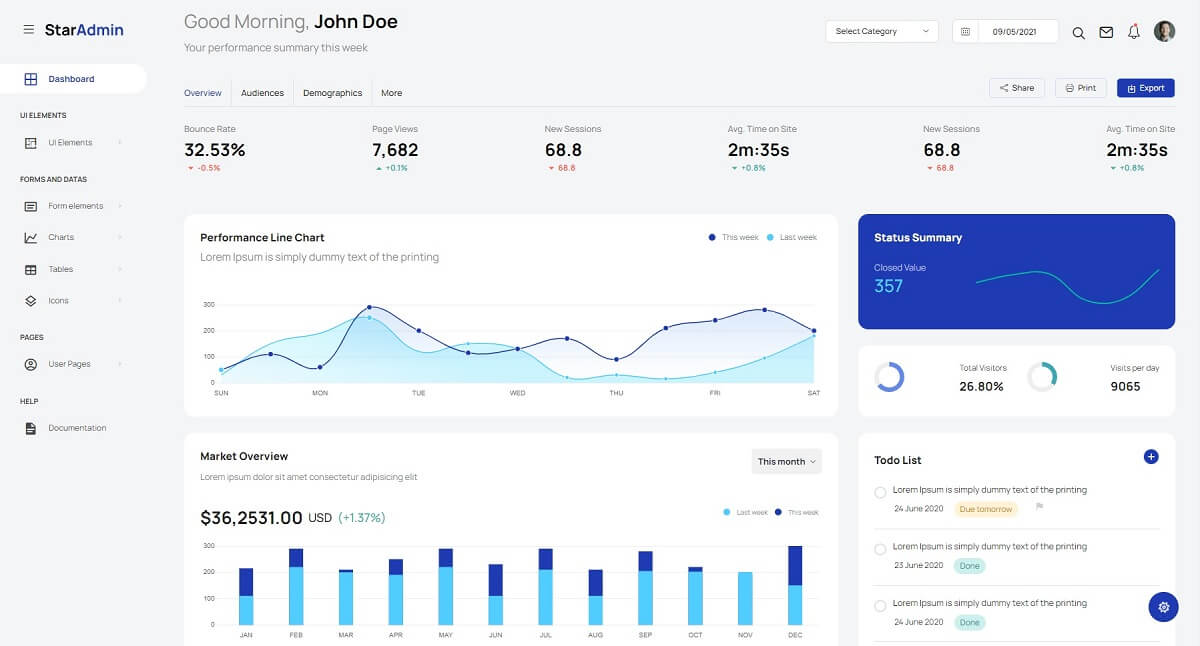 CoreUI is an Open Source Bootstrap Admin Template. But CoreUI is not just another Admin Template. It goes way beyond hitherto admin templates thanks to transparent code and file structure. And if that's not enough, let's just add that CoreUI consists bunch of unique features and over 1000 high-quality icons.
MIT License
Bootstrap  4, Webpack tooling
Material-based design
Complete set of pages and UI Kit
CoreUI is meant to be the UX game changer. Pure & transparent code is devoid of redundant components, so the app is light enough to offer the ultimate user experience. This means mobile devices also, where the navigation is just as easy and intuitive as on a desktop or laptop.
CoreUI - product page (contains DEMO and sources)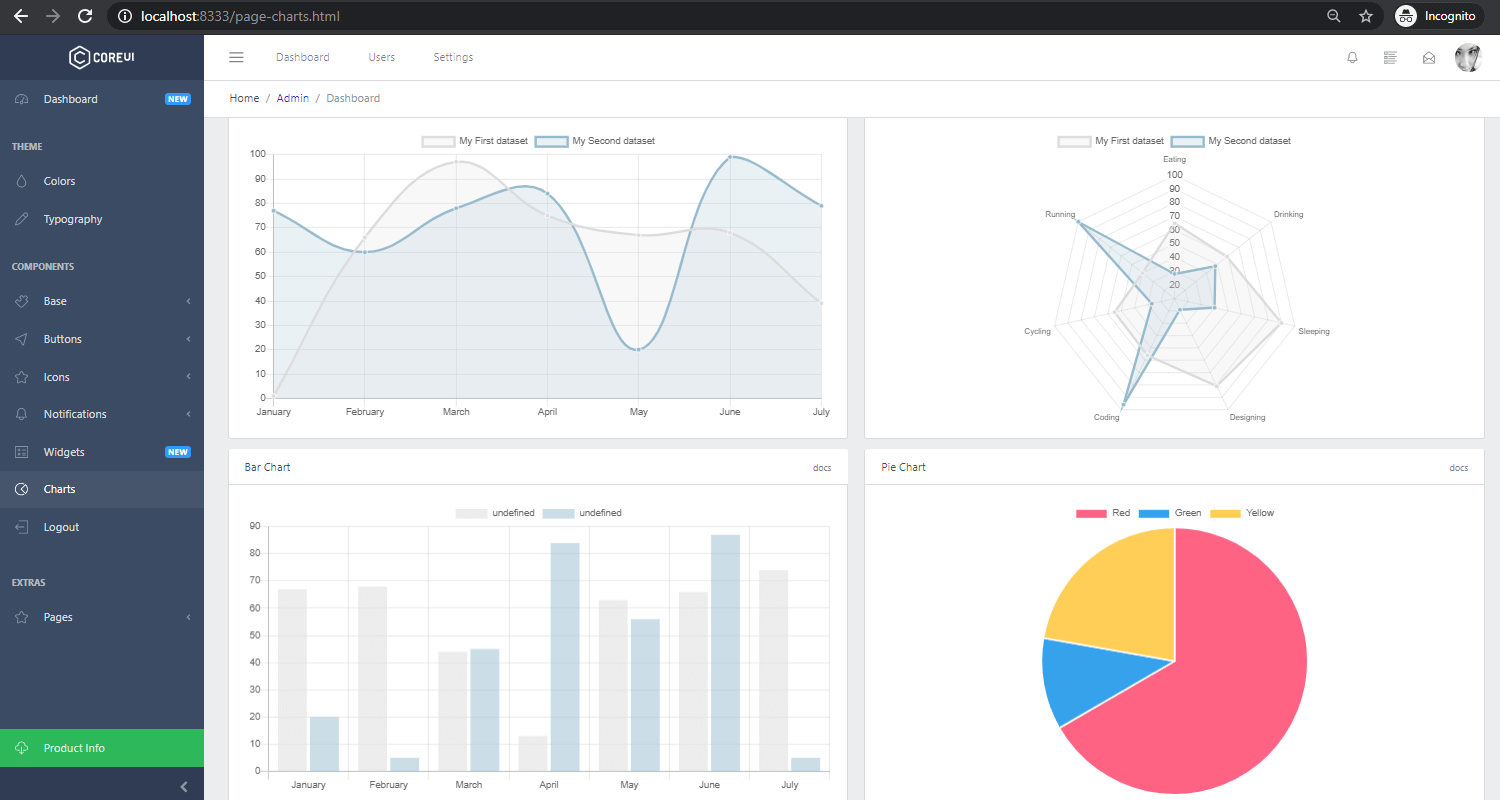 ---
Thanks for reading! For more resources please access: