Laravel Theme Download - Modern UI Kits to start fast
A curated list with Laravel Themes and projects available for download without a registration lock - all projects are released under the MIT License.

This article presents a curated list with modern Laravel Themes released as open-source products by their vendors, available for download without a registration lock. All projects are actively supported and the permissive license allows the usage for hobby and commercial apps. For newcomers, Laravel is an open-source PHP framework designed to make developing web apps easier and faster through built-in features. Thanks for reading!
---
Open-source Bootstrap 4 Admin Dashboard built for Laravel Framework 8.x and Up with a fresh, new design inspired by Google's Material Design. The product comes with 60 implemented frontend components, which you can combine and modify to your liking using SASS files. Every element has multiple states for color, style, hover and focus.
Example pages - Whether you are looking for inspiration or simply want to offer your clients a quick glimpse, the pre-built example pages can jump start your next project. Switching from the pre-built examples to a real web app has never been easier.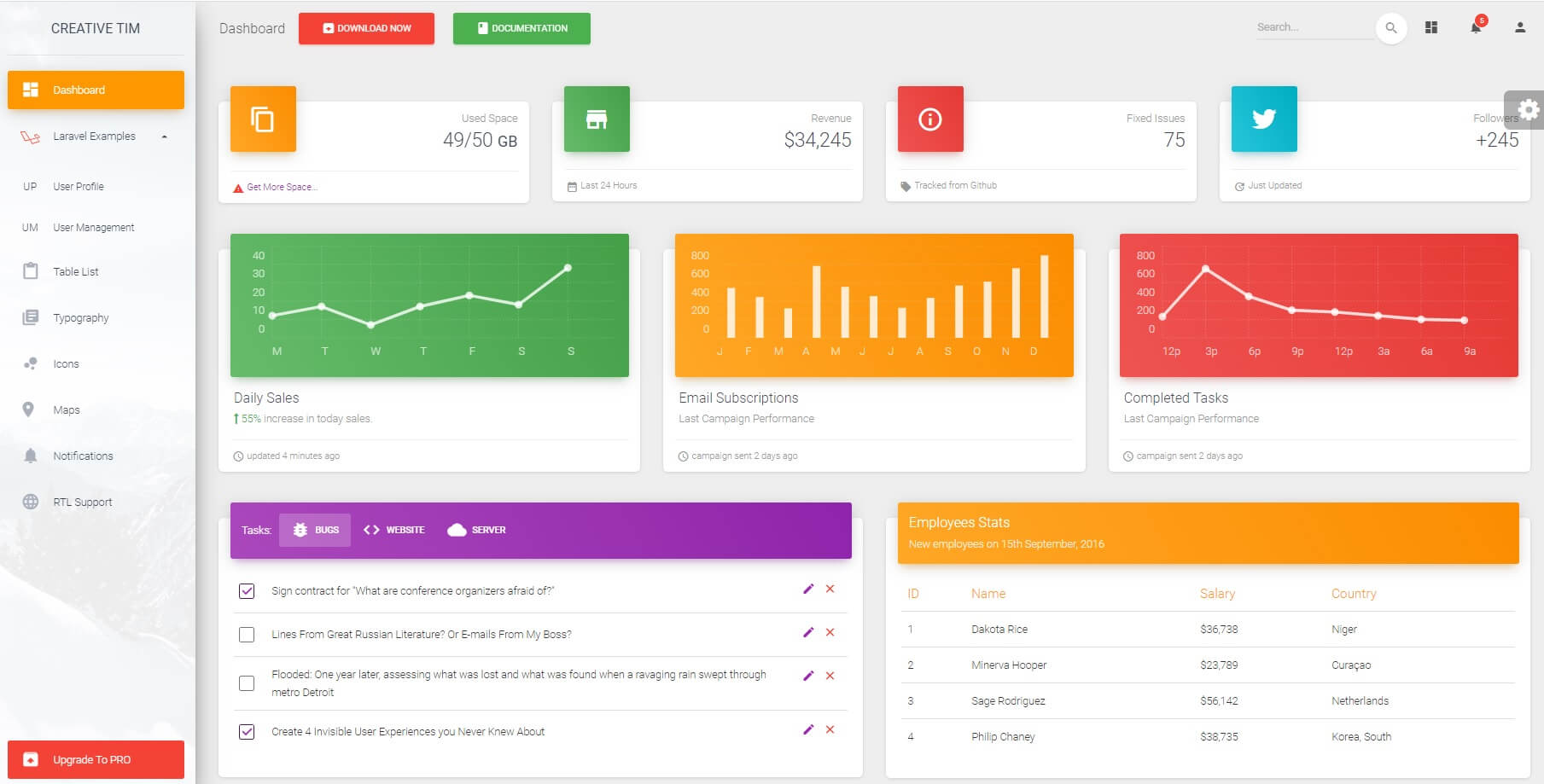 Argon Dashboard comes with a rich UI super easy to customize using the SASS files. This Dashboard is coming with pre-built examples, so the development process is seamless, switching from our pages to the real website is very easy to be done.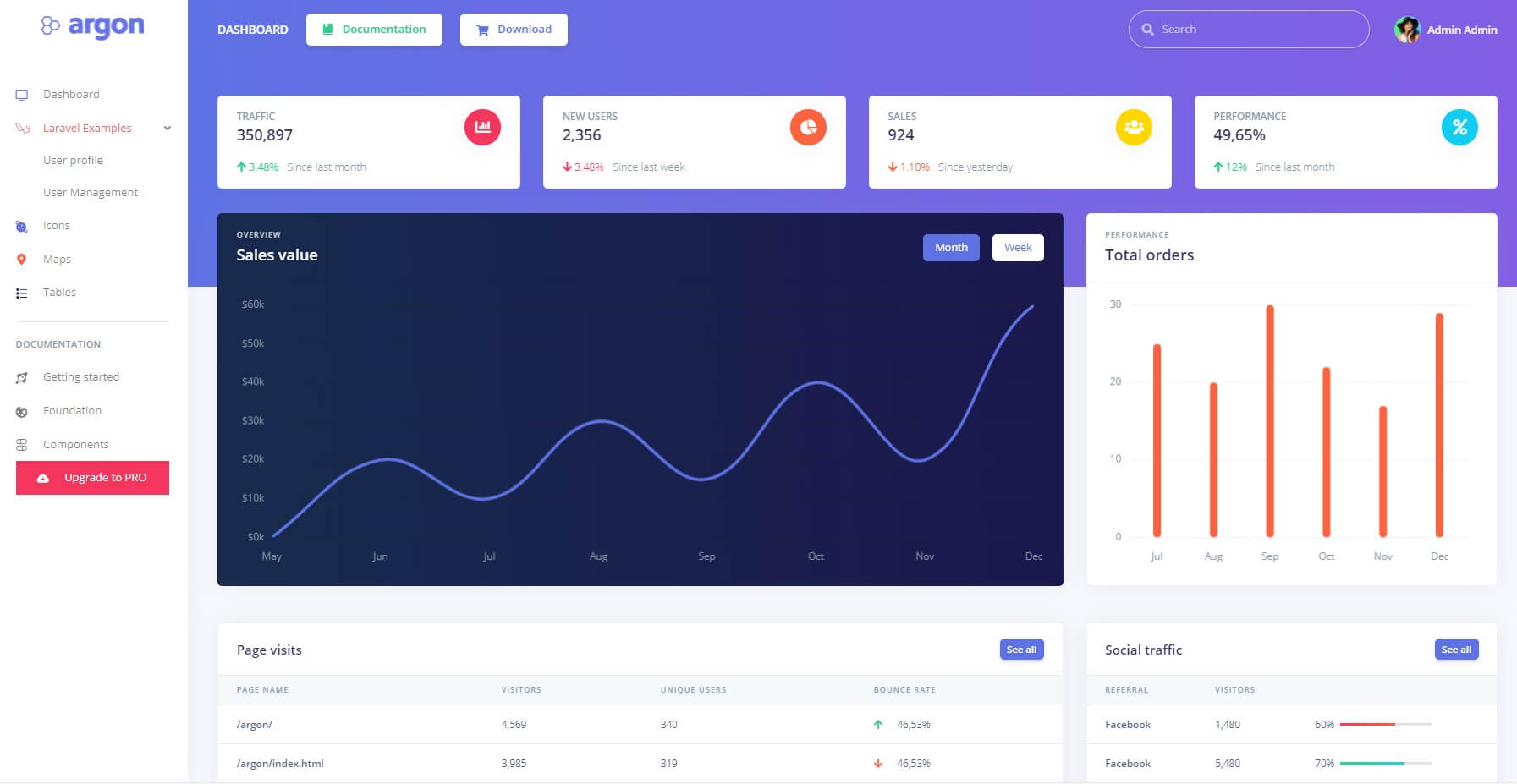 Black Dashboard Laravel includes 16 fully implemented components and 3 customized plug-ins designed to speed up your development. And make everything look amazing in the process.
Ready to use CRUD - Instead of investing time in doing the frontend – backend integration, you have a boilerplate which does the heavy lifting for you, including an out of the box login, register and profile edit.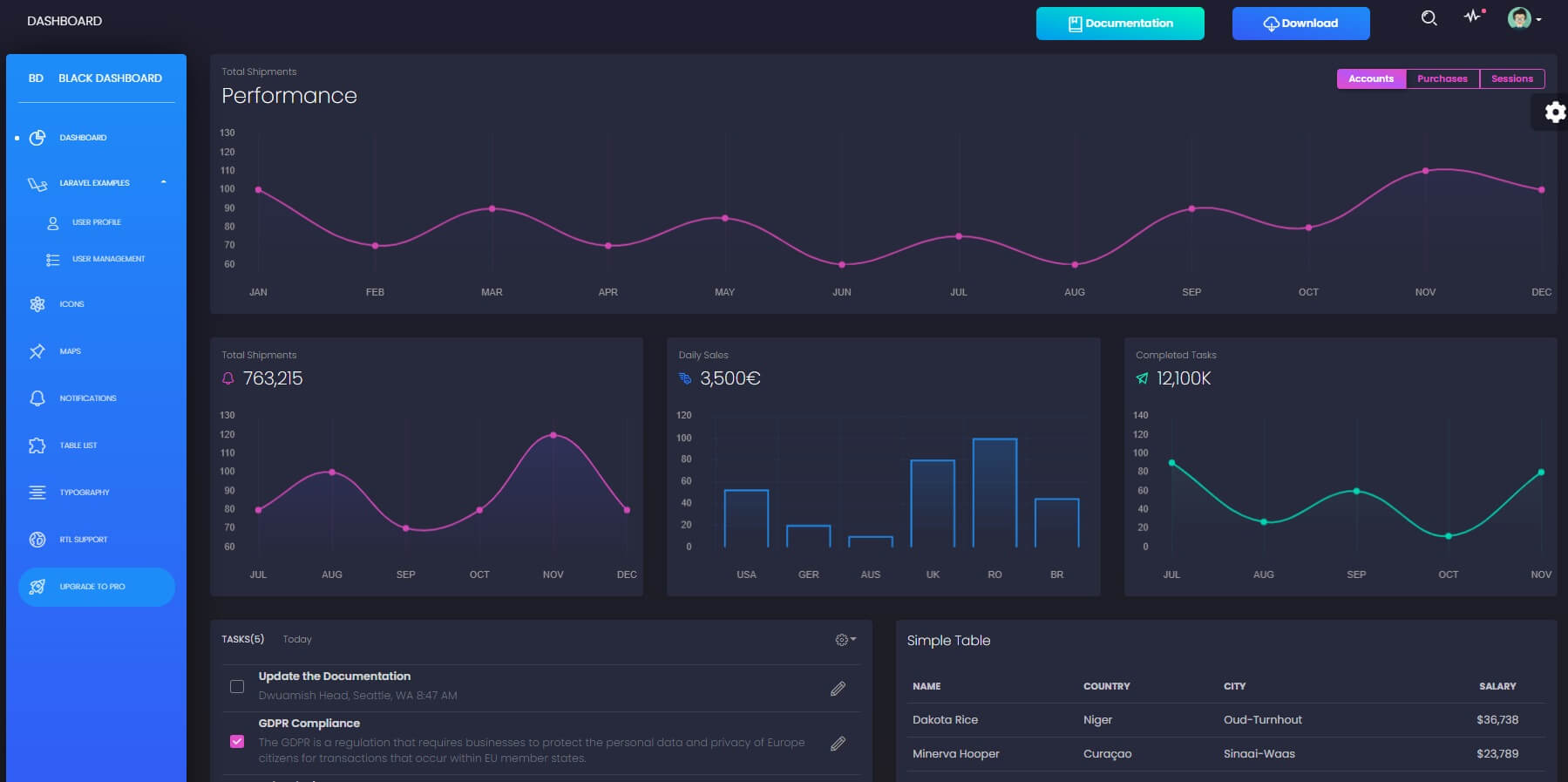 Light Bootstrap Dashboard Laravel is designed to be clean and simple. We only included components that you actually need in an admin dashboard, without compromising flexibility. The dashboard gives you the freedom of picking and combining elements to create lightweight, yet powerful admin panels for your custom applications.
Out of the box login and register - Light Bootstrap Dashboard Laravel comes with ready to use login and register forms, a must-have for any app you're going to build. Instead of investing time in doing the integration, you have a boilerplate which lays the foundation for you.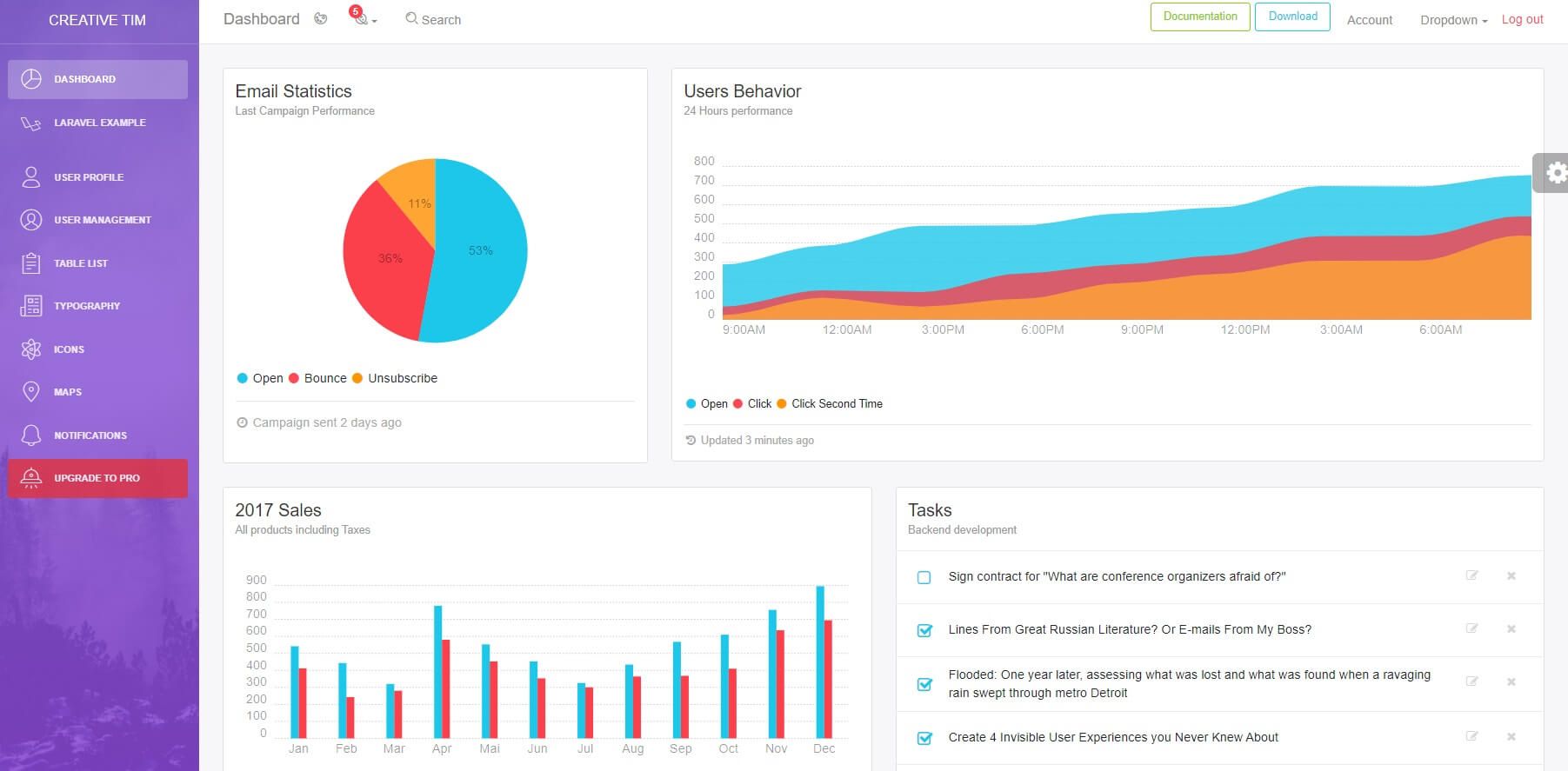 This product is more than a simple Laravel Theme, is a full-stack resource that uses Vue to render the frontend with an API-powered Laravel backend.
What's in the box:  7 example pages, 16 handcrafted UI components, Laravel API backend, Fully-functional authentication system and JSON API.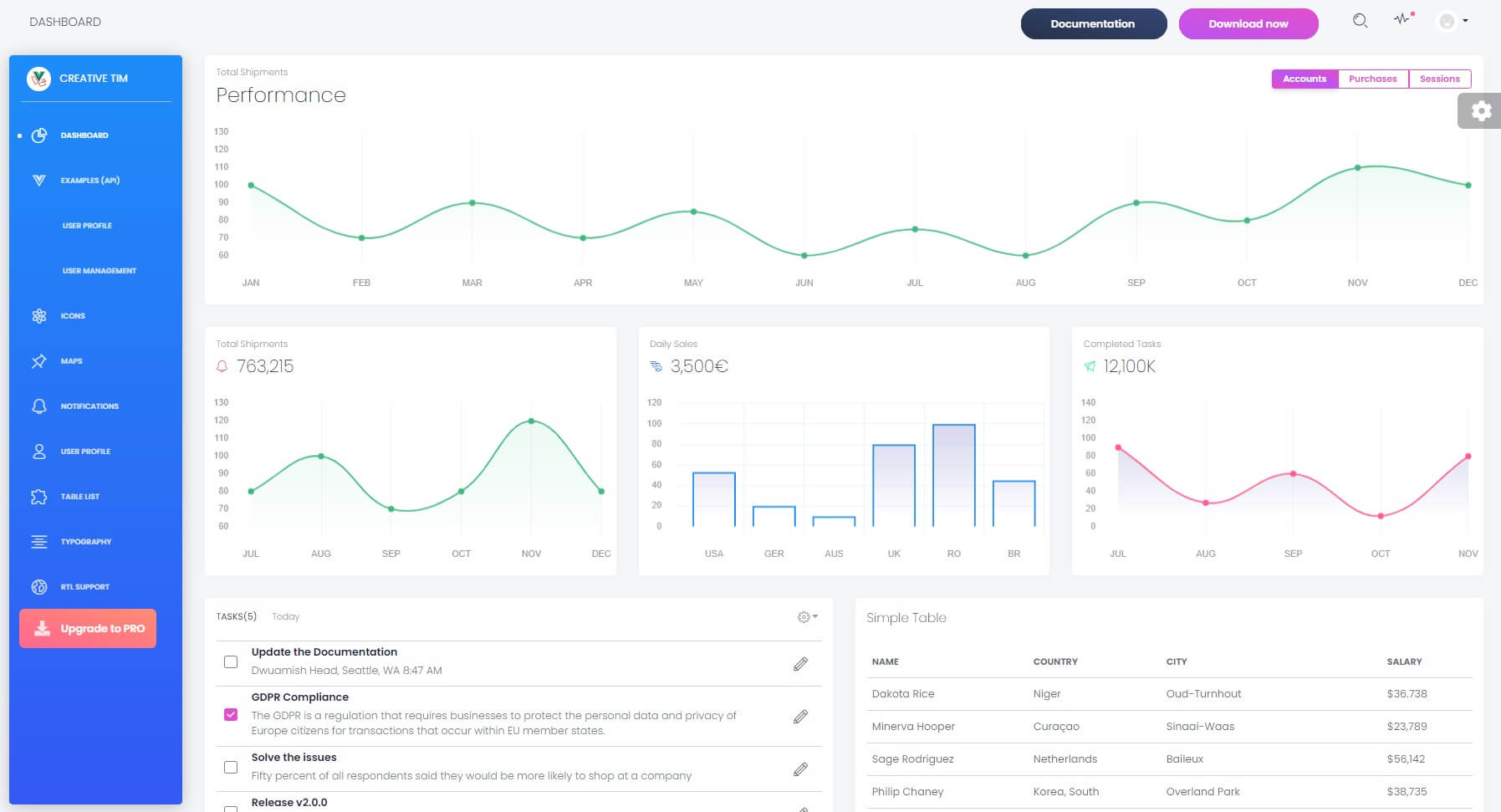 Paper Dashboard Laravel is based on the extended version of Paper Dashboard Bootstrap. Full-stack product provided with basic modules, database, JSON API and usable registration flow.
Clean & simple design - Paper Dashboard Laravel combines soft, pastel colors with beautiful typography and spacious cards. It's a great tool for building powerful apps with a clean, simple look & feel, a perfect fit for today's flat design.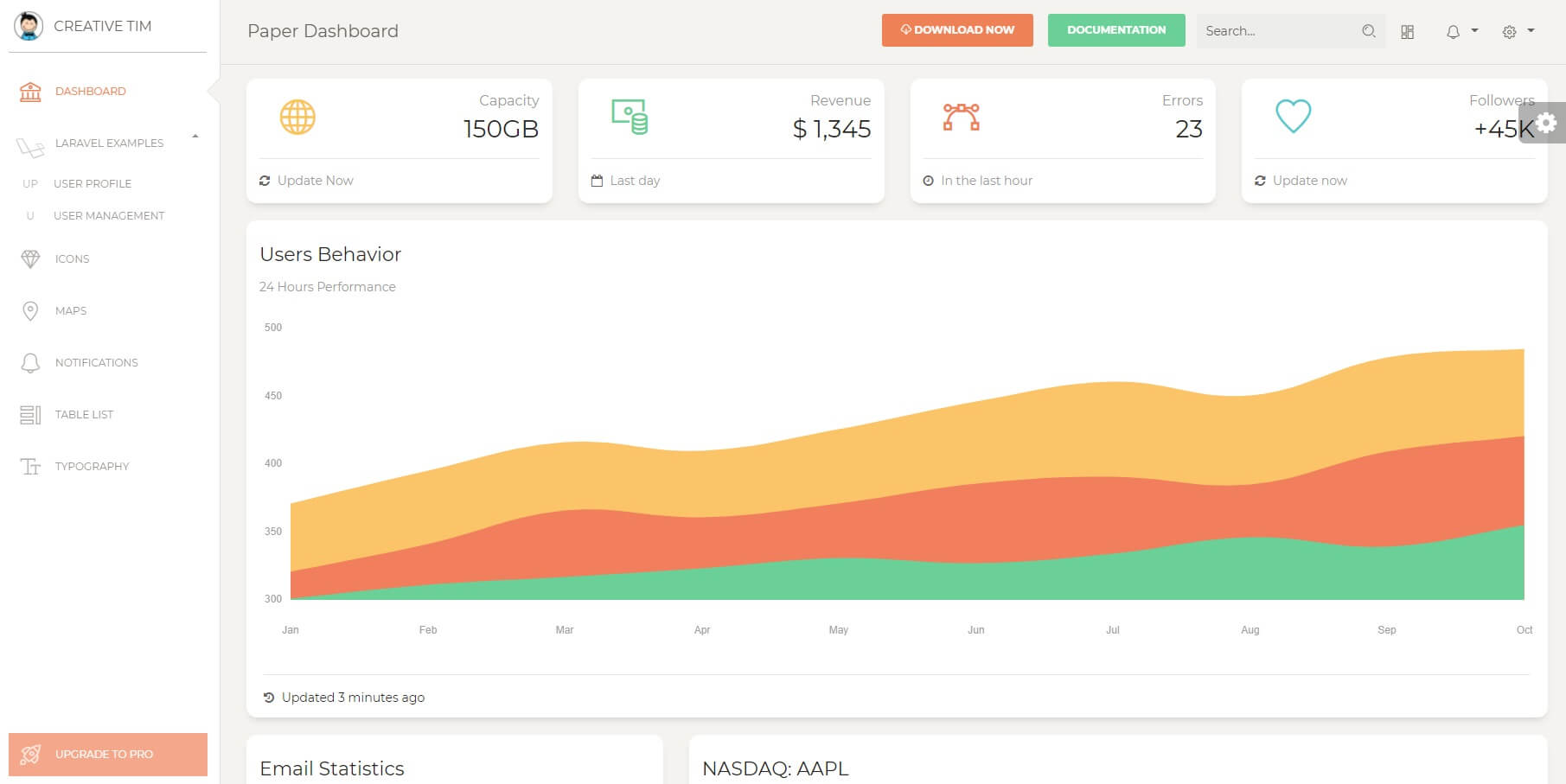 ---
Thanks for reading! For more resources, please access:
The Laravel Bundle features 16 Front-end and Back-end Premium products that will help you develop faster & easier 🔥.